TC&C exhibits at BroadSoft Connections 2009: Voice & Vision, the premier event for Broadsoft customers and partners. The event takes place on 25 – 28 October 2009 at The Phoenician, Scottsdale, Arizona.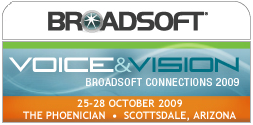 BroadSoft's seventh annual executive users' conference will showcase unique, innovative communications services that will allow you to move beyond voice and spawn new revenue opportunities. At BroadSoft Connections 2009: Voice & Vision you will be introduced to new technologies that will help you differentiate your communication services to meet the needs of today's demanding market.
TC&C will showcase the latest hosted, multi-tenant edition of the award winning call recording system, Carin. Join us at booth #10 and learn how leading service providers benefit from the call recording service offered for their customers.
If you would like to book a meeting or contact us before the show, send us an email to This email address is being protected from spambots. You need JavaScript enabled to view it.
More information: http://www.broadsoft.com/connections/2009/index.htm