Introduction
Having difficulty with measuring call center performance?
Is it cumbersome to obtain the proper information by reviewing many screens, logs, and reports?
Spending too much time on monitoring what agents are doing at any given moment?
Stepped away for lunch and a crisis situation developed?
In case of any of these issues the perfect solution is: ccInfo™.
ccInfo is a powerful wallboard application for customer contact centers to visually aid supervisors and agents with real-time statistics on call traffic and handling.
The ccInfo application collects real-time information from the Cisco Unified Contact Center (UCC) Express environment and can display it on large wall displays or on any desktop, either in a web browser or within the Cisco UCC Express Agent Desktop.
Create many wallboard layouts tailored to your organization's needs. The easy and flexible configuration allows group, queue, or even agent level display of key performance indicators (KPIs) and metrics (e.g. clock, banner, CSQ). In ccInfo you can set thresholds with automatic alarms like color change or audible alarm. Many wallboards can be defined and configured for even individual agents if needed.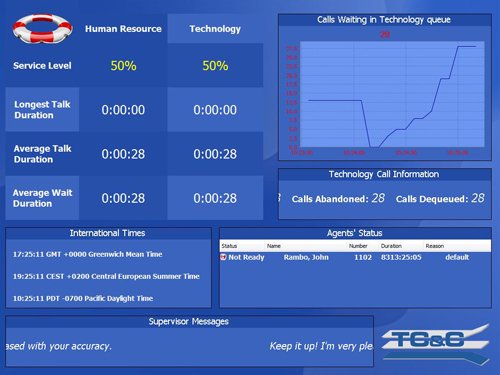 Features
ccInfo provides the following features:
Display Cisco UCC Express real-time statistics from the standard real-time report tables in the system
Display-type wallboard interface accessible via a Web-browser or also can be used in UCC Express Agent Desktop version 4.x.
Customized Wallboards can be built using screen elements, called infobits including:

Clock: displays the current system time in a configurable format
Banner: scrolling messages, with optional alarm sound when content changes; fully customizable text format (font type & size, color, background) and scroll speed;
CSQ metrics: UCC Express real-time data element; many thresholds can be defined with fully customizable format/look, and automatic alarm type; Derived Metrics: derived from many CSQ metrics of similar type (e.g. summary of total calls of 3 different CSQs)
CSQ banner: scrollable panel for multiple CSQ metrics
Group: many infobits can be positioned into a group with a frame, title and formatting
Agent's state: ability to display agent level status information

Secured access to display or configure the wallboard(s) or administer the system and users.
Assign wallboards to groups or individual users so every user can have different wallboard layouts and settings if needed.
Support for displaying UCC agent status and viewing CSQ statistics on XML capable Cisco IP phones
Technical Information
In the table below you can find the latest technical information about ccInfo.
Supported Cisco UCC Express versions
3.x, 4.x, 5.x, 6.x, 7.x, 8.x, 9.x, 10.x, 11.x, 12.x
Server Operating System

Microsoft Windows 2003/2008/2012 Server, 32-bit/64-bit

Application Server
Apache Tomcat 8.0.30
Java Runtime Environment
8
Database Server
MySQL 5.5
Supported Client Browsers

Mozilla Firefox 45 or above
Chrome 50 or above
Internet Explorer 11 or above
Embedded Internet Explorer in Cisco Agent Desktop 4.x or later

Language Support

English,
Arabic,
Hungarian
Other languages optionally supported