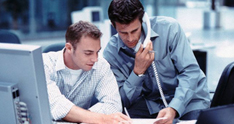 You are never alone
TC&C support services help you maintain a competitive edge, with systems that stay up and perform at their best, no matter what challenges your business environment presents. This site will help you find immediate answers to product related questions before contacting TC&C support. TC&C operates a 24/7 support. The support contacts are provided to our customers and partners in the support contract. Learn more
Access
The TC&C Support site provides access to TC&C information and resources, 24 hours a day, 7 days a week. Accessible from anywhere in the world, it is an easy-to-use tool for doing business with TC&C.
In order to access these services, you have to be registered as a customer or partner and log in to the site.
If you do not have access yet, please fill out the registration form here or send an email to This email address is being protected from spambots. You need JavaScript enabled to view it..
End of Life Information
Some versions of our Software products have reached their end of life and they are no longer available for sale or download and they are no longer supported. For a complete list of these products, please log in to the site.