Introduction
The CASpro™ (Call Accounting System professional) product family provides call accounting and billing functions for IP based and legacy PBX systems as well as for VoIP gateways. CASpro's Enterprise and Service Provider Edition has been developed specifically for networked telecommunication systems with components across many locations, even from different vendors (multi-site and multi-vendor support).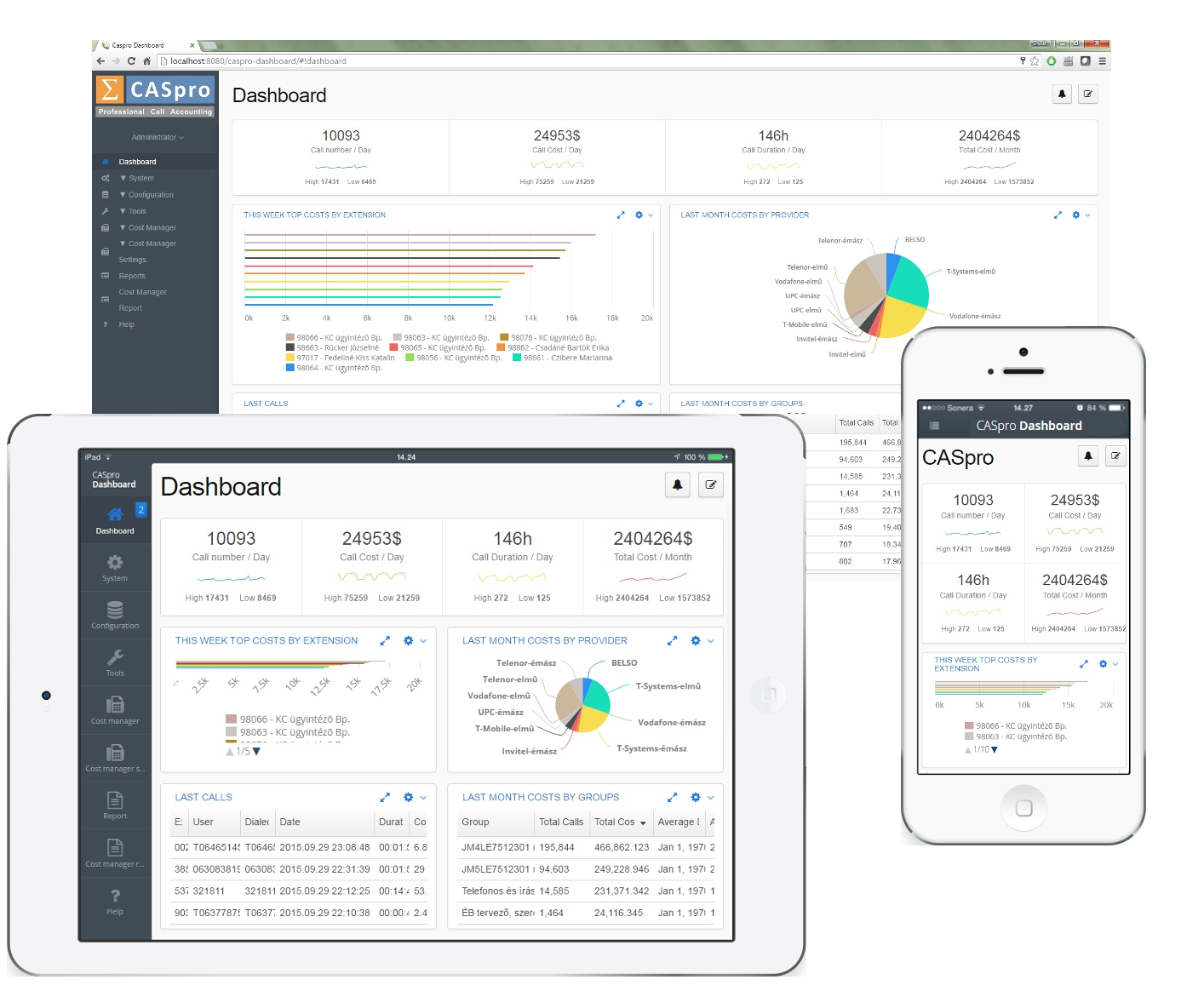 Features & Advantages
CASpro Office and CASpro Enterprise call accounting systems features:
Full tarification of IP based and legacy PBXs: providing call rating and billing information for your whole organization
Management of networked PBXs
Responsive design
Hundreds of references
Tarification based on duration and impulse
Any kind of algorithm used by the service providers
Tarification of toll-free (green) numbers and internal calls
Reports can support any kind of basic or customized filtering criteria
Printing templates for personal requirements
Reports can be saved to various file formats: XLS, PDF, CSV, RTF, etc.
Authorization or PIN code support
Secure HTML5 based central administration user interface
Degressive or progressive accounting
Collaboration with the operator software
Secure and safe operation, authorities can be assigned to individual users
User right management can be based on corporate hierarchy
Automated report generation and sending e-mail
Advanced record collection monitoring
Web-based administration
Modular construction
Supports MySQL and MSSQL database servers
Interfaces: Cisco gateway, Cisco UCM, Nortel Meridian, Bosch - Tenovis, Siemens HiCom, Avaya S8xx, Eurogeneris, Alcatal OmniPCX, Alcatel 42xx, Ericsson MD110, Aphona
Technical Information
In the table below you can find the latest technical information about CASpro.
Supported PBXs

CASpro supports PBX's from all major vendors:

Alcatel
Aphona
Avaya
Bosch - Tenovis
Cisco Unified CallManager, Cisco Unified Communication System
Ericsson
Nortel Meridian
Siemens
Panasonic
Other PBXs are supported optionally.

CASpro Application and DB Server HW

x86 based server, with
Microsoft Windows Server 2016 OS

Database Server
Web Server
User Interface / Web Browser

HTML5 Browser
Language Support

English,
Arabic,
Hungarian
Other languages optionally supported