TC&C will be exhibiting its premier products, CARIN and CISconn at the Cisco IP Telecommunication User Group (CIPTUG) 2006 Annual Conference October 9–12 in Phoenix, AZ in booth #329. The CIPTUG Annual Conference is the only event of the year focusing strictly on Cisco IP Communications products, bringing together hundreds of companies and professionals for a week of learning, knowledge sharing and networking.
If you are interested in attending the CIPTUG Conference and have not registered yet please contact TC&C at This email address is being protected from spambots. You need JavaScript enabled to view it. for information about special discount we are able to offer our current and future customers.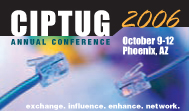 Visit the official CIPTUG site.
Read complete press release.