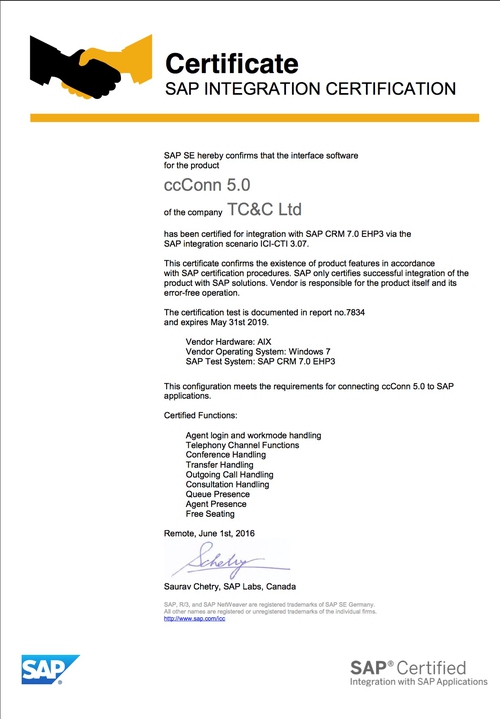 TC&C proudly announces that its ccConn 5.0 has achieved certified integration with SAP® CRM. The solution has been proven to integrate with SAP CRM, providing customers using Cisco Unified Contact Center Expresss (UCCX) with increased productivity and customer satisfaction based on a single unified user interface.
The SAP Integration and Certification Center has certified that ccConn 5.0 integrates with SAP CRM to exchange critical data with instances of SAP Business Suite software.
"We are delighted to announce the successful achievement of SAP certification for ccConn," said Csaba Juhasz, CEO at TC&C. "The ability of ccConn to leverage the business potential of assets provided by solutions from SAP and other vendors will prove highly beneficial to current and future customer engagements."
As a result of the certified integration, ccConn now provides enhanced call management including caller identification, call routing on business data, screen pre-population, agent status management and much more. ccConn is a must have solution for companies to realize all the benefits and achieve maximum ROI on their SAP CRM and Cisco Unified Contact Center Express implementations.