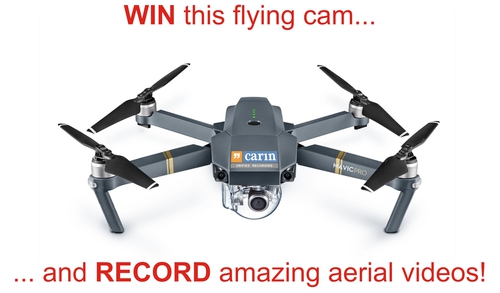 From June 10th to 14th TC&C will be a part of Cisco Live in Orlado, FL.
Visit us at booth #1444 in the World of Solutions to get the latest update on our products and win a flying cam. 
You can enter the game by filling in the CARIN Quiz before 11:00 am on Thursday, June 14th. The prize drawing will be held at 11:30 am on the same day.
Win the flying cam and RECORD amazing aerial videos!
Prize Draw Conditions:
To enter the drawing please answer a few questions and fill in your name and e-mail as registered for the Cisco Live!
If the winner is unable to attend the drawing at the specific time no alternative provisions will be made. No cash alternative to any of the prizes shall be available. There is no charge to enter. Entries must be submitted personally and entries made by third parties or agents shall be invalid. TC&C respects all entrants' privacy and the use and protection of the personal information (including any personal information provided by the entrants). TC&C reserves the right in its sole discretion to cancel, terminate, modify or suspend the drawing at any time and for whatever reason.