This post is a translation of the article, published in Computerworld. You can read the original article here.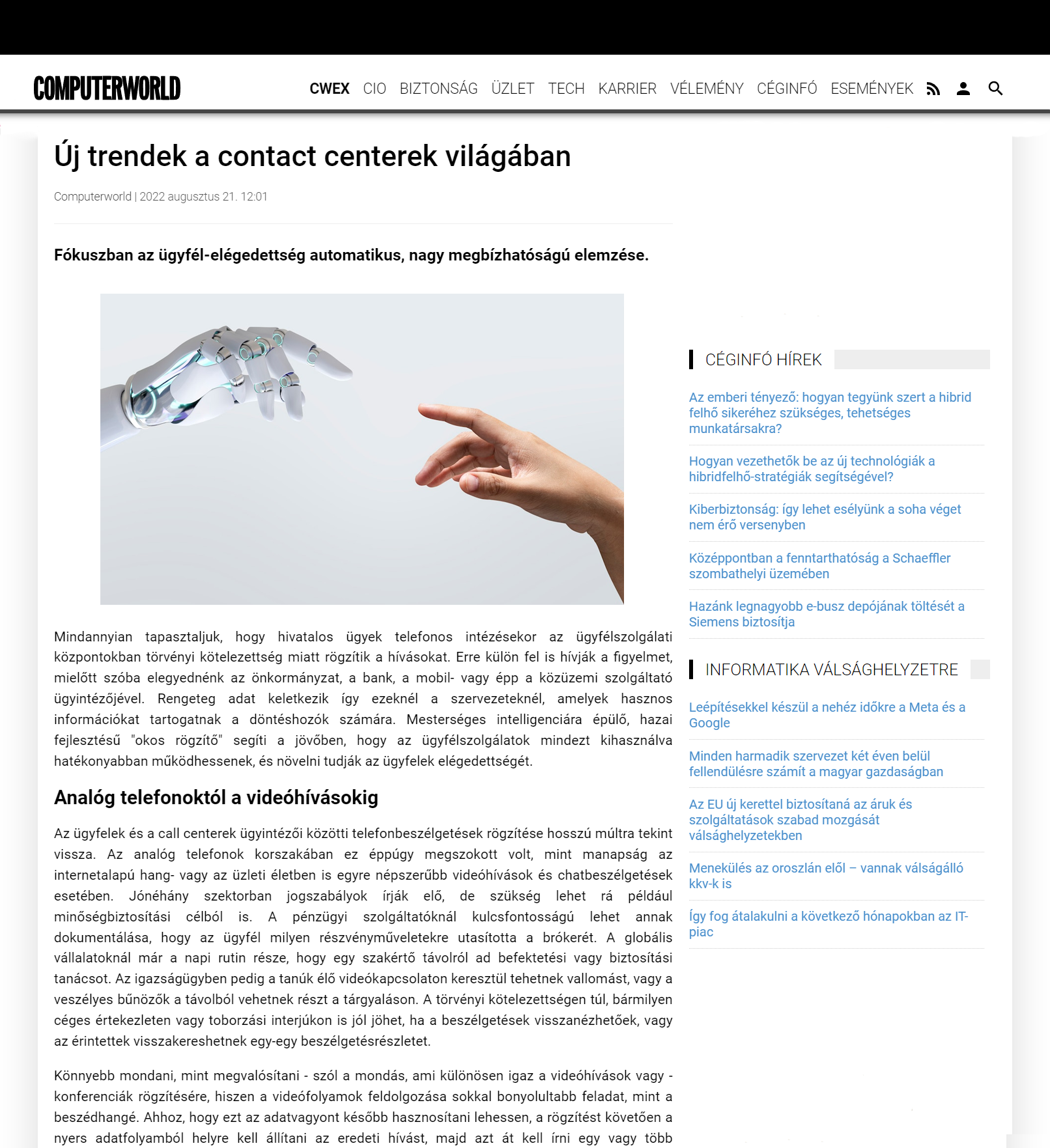 In Focus: Automated, High-reliability Analysis of Customer Satisfaction
It is a common practice by now, that when it comes to dealing with official matters on the phone, customer contact centers record calls due to compliance. It is also a must that customers get informed about this procedure, usually by an IVR before the customer gets queued to an agent of the municipality, the bank, the insurance company and even the utility service provider. Help desks generate a huge amount of data which contains valuable information for decision-makers. A Hungarian company, TC&C aims to help the contact center industry utilize this data with an AI-driven "smart recorder" in order to operate more efficiently and increase customer satisfaction.
From Legacy Telephony to Video Calls
Recording phone conversations between customers and contact center agents has come a long way. It was just as common in the era of legacy phone systems as it is nowadays regarding internet-based voice, video calls and chat, which are becoming more and more popular within business too. Call recording is required by law in quite a few sectors and it also can be used for the advantage of quality assurance. For financial service providers it is crucial to document what stock trades the client has instructed the broker to take. For experts of global companies it is already common practice to give investment or insurance advice remotely. In justice, witnesses can testify via live video conference sessions and defendants can participate in trials remotely. In addition to fulfilling legal obligations, being able to review recorded interactions and search for specific information can also be useful at any company meeting, recruitment interview and distance learning as well.
"Easier said than done" - as the saying goes, which is especially true when it comes to video call and conference recording, since processing video streams is a much more complicated task than turning voice to account. In order to make the data asset utilizable, after recording the original call must be recovered from the raw data stream and then transcribed into one or more formats. The files generated during this process must be stored appropriately so that they are secured and can be retrieved and searched for on demand. CARIN provides the right tools for recording any communication channel in a compliant, secure and traceable manner.
30 Years of Experience, Continuous Renewal
TC&C now looks back on a 30 year-old history of which its domestically developed recording suite, CARIN is a huge part of. As a certified partner and direct supplier of Cisco, the company not only provides innovative services to Hungarian institutions, but is also a key player of the international market. For now, the products of TC&C are used in more than fifty countries on five continents where the company also has international branch-offices, reseller and system integrator partners. In 2001, the company began developing the by now multi-awarded CARIN architecture, which supplements Cisco Unified Communication Systems with omnichannel recording capabilities. The most significant end-users of such solutions are financial institutions and service providers, whose members seek solutions that can point beyond basic compliance recording and can automatedly, innovatively and reliably utilize recorded data due to legislative liabilities and evaluate customer calls for business developing purposes.
"With the development of technology, the role of contact centers in the operation of companies has become decisive, and the pandemic has given new impetus to the innovation processes taking place in the field. Our company has been shaping the world of contact centers for several decades, thereby supporting the largest companies around the world in continuously renewing customer service, workforce-optimization and raising customer satisfaction to a higher and higher level," says Dr. Csaba Juhász, the CEO of TC&C.
CARIN's success lies in the fact that, thanks to continuous development, it is able to respond to increasingly complex user needs, such as measuring customer satisfaction, analyzing the quality of customer service associates' work or even collecting opinions about individual products. CARIN's upcoming module uses artificial intelligence for real-time call analysis, transcription and translation of audio recorded at helpdesks into foreign languages.
The Future is Evaluating Customer Satisfaction
In recent years, in addition to phone calls, IM applications and videoconferencing platforms have also become significant in customer care, which created the need for a system that can automatically detect and evaluate customer satisfaction on all three channels in real time, thereby providing an immediate picture of customer satisfaction. This is how the idea of ​​the artificial intelligence-based CARIN system was born: CARIN QAI or, more simply, the smart recorder.
"The essence of our innovation, which is considered a pioneer on the market, is that we can examine customer satisfaction and the underlying emotion on three channels (telephone, video, chat) independently, yet simultaneously. From the perspective of system operation, it is sufficient to determine whether the customer is satisfied or dissatisfied or symptomatizes a neutral attitude. After prior information and consent of customers the interactions can be evaluated by analyzing facial expressions, voice and recorded content. At the end of the process, the information from the individual channels is aggregated by an artificial neural network, thus the final result of customer satisfaction will be the most reliable," adds the company's managing director.
The product development will be complete by the fall of 2023, and result in a solution that works with high precision and meets the maximum legal requirements, is multilingual, and can be used in an international environment, which currently does not exist in the world.
Contact us for preorder and further information about CARIN QAI.