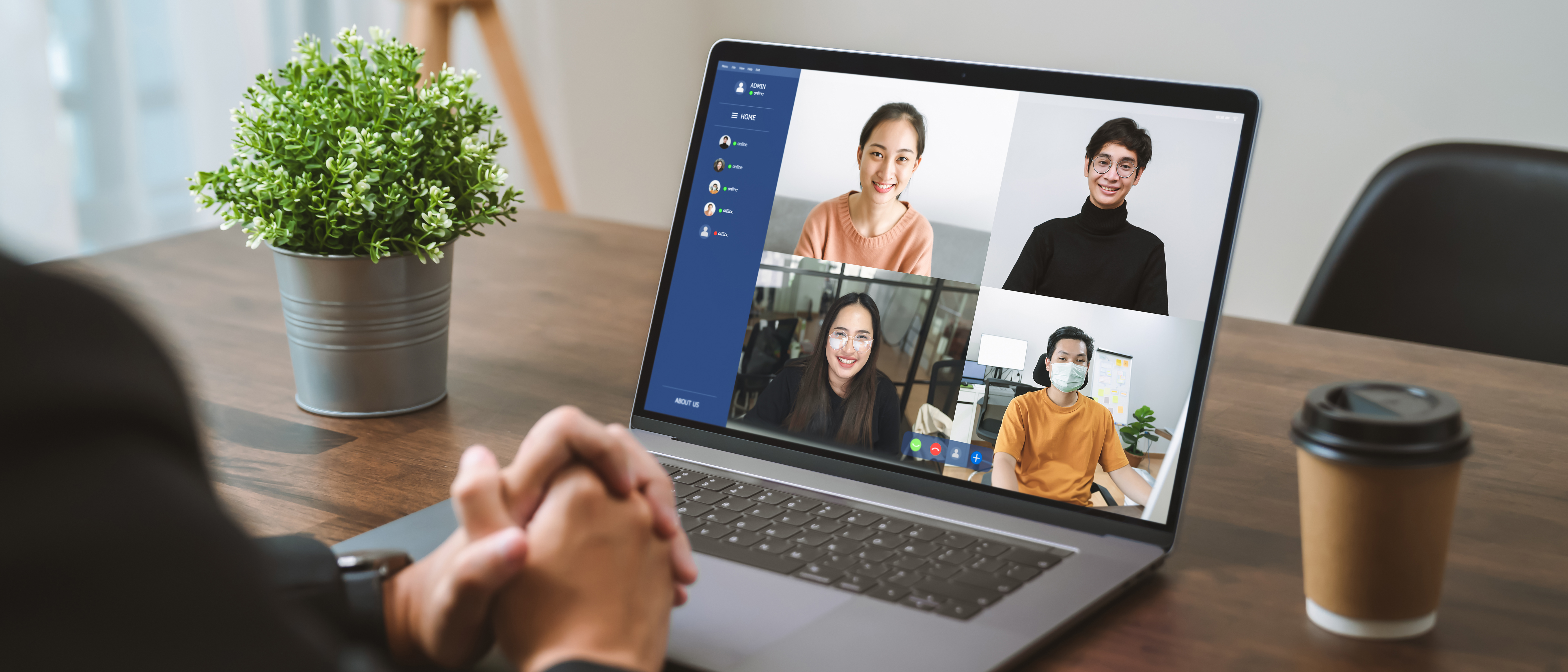 Beyond the default demands of synchronous distance learning universities continuously face new challenges when delivering their courses online. Remotely presented lectures have gained even more relevance after the recent disruption of traditional education.
Old Dominion University of Norfolk, Virginia came across the growing needs of social presence in online courses. To overcome their difficulties they partnered up with TC&C to co-develop a specialized media recorder solution for distance learning.
We asked Miguel Ramlatchan, the assistant vice president of technology at Old Dominion University to review the challenges and demands from their perspective and how the CARIN LectureCorder system responds to all that.
The use of video conferencing solutions has become more and more widespread for the last decade or so, which suggests in direct proportion that the market is well saturated for now, yet you decided on incorporating a third-party recorder into your distance learning architecture. Why?
At Old Dominion University we use Zoom, Cisco WebEx and Microsoft Teams during our remote sessions. Even though all the above mentioned online meeting platforms have basic recording features, an institutional level of centralized recording and content sharing requires a step beyond those built-in capabilities. We pursued to build a fully comprehensive architectural environment that is suitable in the long run for managing, recording, processing and sharing not only online academic classes but events, seminars, workshops and conferences also.
General video conferencing solutions can only record their video conferences and in case an institution, such as ODU, decides on using several systems, the pre and post production of recorded materials comes with unnecessary difficulties which we were able to resolve with complementing WebEx, Zoom and Microsoft Teams recording with the CARIN LectureCorder.
What are the main benefits that implementing CARIN LectureCorder has brought to ODU's distance learning program?
One of the biggest issues using solely video conferencing solutions to capture lectures is the manual aspect of recording. We operate circa 300 online courses via Zoom and WebEx, recording them both at campus and at a home office environment as well. This raises a demand for recording a large number of simultaneous courses in a location and platform independent manner. Managing and executing all that without built-in organizing features was close to impossible and resulted in frequent mishaps regarding missing records mainly. The CARIN LectureCorder is built on the CARIN365 compliance recorder, keeping the product's main feature and ensuring the recording of all interactions. With adding a third-party recorder to our conferences, ODU has been able to avoid losing any records due to system failures or lecturers' mistakes. Inviting the recorder to each meeting is as easy as inviting any other end-point or conference, furthermore with WebEx and Zoom's Outlook integration feature, the process is automated from scheduling the meetings to starting and ending the recording.
Congratulations for your most recent public appearance at the InfoComm conference, where you presented about increasing student engagement during online courses. In case any of our readers have missed out on it, can you tell us how a specialized online course recorder enriched Old Dominion University's distance learning programs?
Besides the aforementioned benefits, with CARIN LectureCorder universities can record courses in 1080 and 4K resolutions which are beyond the capabilities of most web conferencing services. Extremely high-quality recordings can be further processed and implemented into modules which can be used, shared and edited in any platform. Higher resolution recording materials give more options to production teams in terms of video production such as pan and zoom to further enhance the diversification of contents and increase engagement when online modules become part of the class.
In addition to being able to create great quality class materials, CARIN can record the presenter, shared content and audio at the same time. Our research at the university shows (as you would expect) students don't want to see just a talking head. They tune out pretty quickly and they don't want to see just the slides either, with a disembodied voice over them. What students prefer is being able to see the instructor and the content at the same time, so that is the online environment we were striving to build. CARIN outputs dual-windows which can be customized even during replay via multiple layout options such as 1/4 video and ¾ content or a 1 video only and 1 content only. Furthermore, students are able to resize the screen and zoom in and out while reviewing recordings which makes the process even more efficient since the various layout formats suit phone, laptop and tablet screens as well.
Did you have any difficulties in terms of integrating an additional component into your system architecture?
The CARIN LectureCorder system works in a virtual, on-premise and in a hybrid environment as well. During development TC&C has always highly considered our feedback and strived to create a solution that provides flexible integration to suit ODU's' already existing system architecture.
At Old Dominion University we operate the CARIN LectureCorder system via virtual servers without the need to purchase new appliances. The CARIN platform is hardware agnostic which means low investment. ODU has been using Cisco routers and switches and Cisco UCX servers in the university's data centers and those servers have been repurposed for distance learning recording which also increased the ROI of that hardware.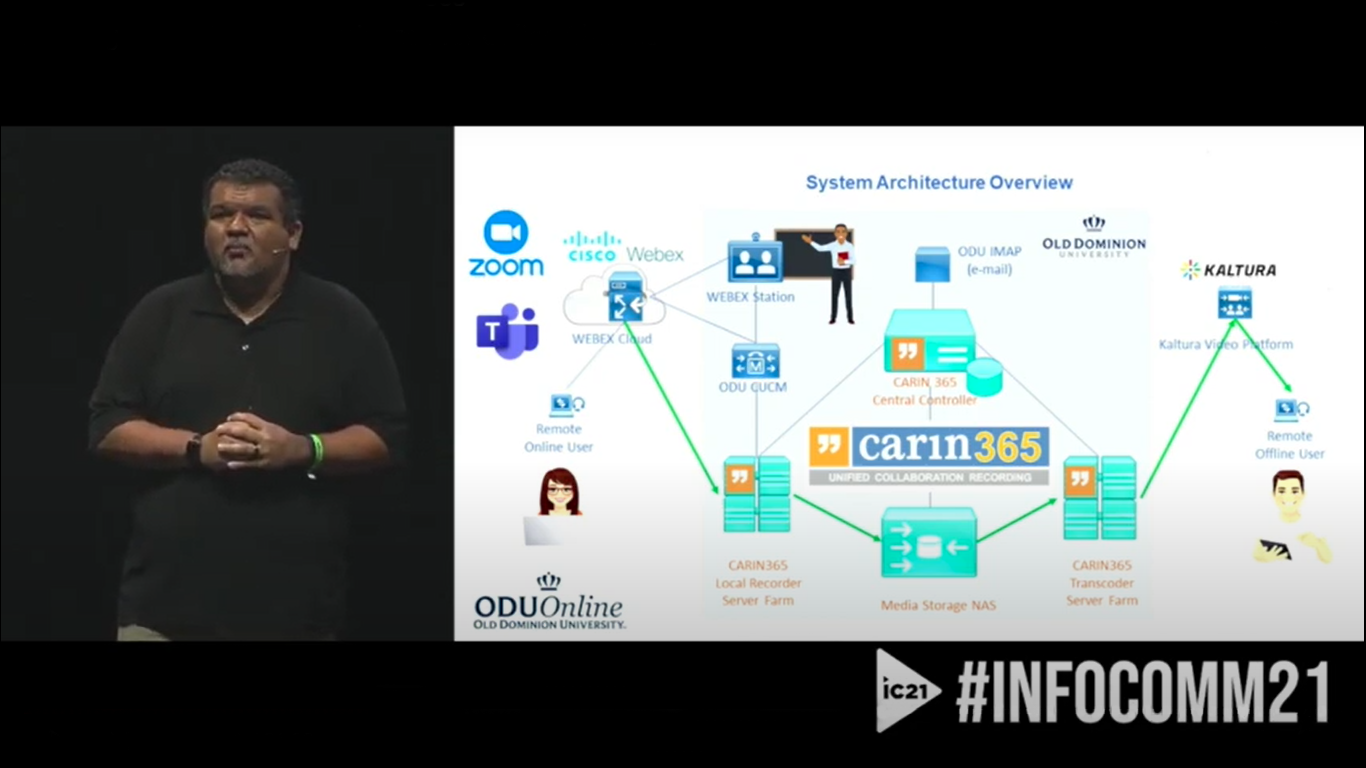 To find out more, Contact us to check out Miguel's presentation on Creating richer media experiences for online classes where you can discover Old Dominion University's successfully built system architecture in detail.